Integrated Human Resource and Workflow Management Solutions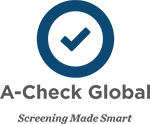 Companies researching potential employees want a screening service that performs more than the background checks and drug screens of a traditional information provider. A-Check Global is the comprehensive screening solution that gives clients more by keeping them informed throughout the entire screening process. Organizations that value open lines of quality communication partner with A-Check for reliable data that informs and empowers. A-Check also delivers a greater level of detail in communicating, providing consistent status updates to give businesses direct access to data and help them analyze and manage it.

California National University was founded in January 1993 to help companies and their staff meet the challenge of maintaining a well-trained workforce.

CTA Travel is a full-service travel management company, with services ranging from vacations to corporate travel management, groups, meetings, and incentives. In operation for more than 25 years, CTA has the experience and financial security you need.