AgileExpress - Job Request Fulfillment
ACT•1's Requisition Module is a Web-based program that easily allows for the requisitioning of employees. Whether the user is a hiring manager, an applicant, or a participating staffing supplier, Requisition Online helps provide accurate data, rapid job request fulfillment, and seamless communication among all users.
AgileExpress - Online Job Requisition
Hiring managers can submit new staffing requisitions to staffing suppliers.
The requisition approval process can be initiated via one screen.
An unlimited number of skills can be defined.
Suppliers can submit resumes and pay rate information about applicants to the requesting manager.
Users can enjoy greater efficiency and time savings with customized screens, special features, and pull-down menus.
Management Reports
Requisition Online allows you to generate reports for Employee Usage, Job Title Usage, or Vendor Usage. Reports "types" can be selected from a pull-down menu. In addition, ACT•1 will work with you to customize reports to your specifications.
Process
With Requisition Online, account-specific information is entered to initiate the staffing process. Users click on the stage in the staffing process they want to access. For example, managers click on "Job Requisition" to enter a new job request to be fulfilled, and "Invoice" allows an authorized user to review and approve invoices. Click on "Report" to generate a customized report.
Job Requisitions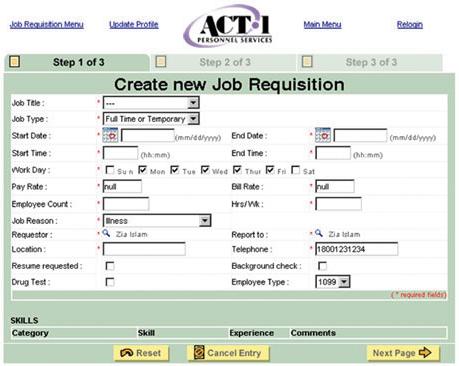 This screen allows you to create a new job order, view or edit an existing job order, or approve or reject a job order.
Requisition Approval
This screen gives you the authority to review and approve or reject any job requisition in the requisition process. Click on any heading to access listings of job orders.
Reports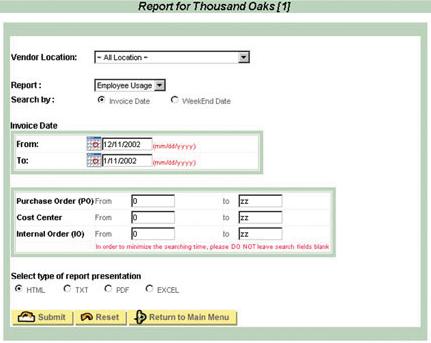 This screen allows users to generate reports for Employee Usage, Job Title Usage, or Vendor Usage. Report types are selected from the pull-down menu.